Customers wishing to rent a 9-seat Limousine car in Da Nang are usually to organize guests to attend seminars, explore groups of 7-8 people and transfer to Da Nang airport, Chu Lai Quang airport. South or Hue Phu Bai airport.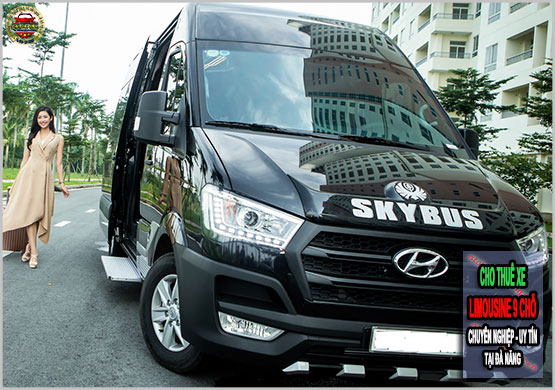 The 9-seat Limousine line is often "tuned" with a super luxurious interior, passengers will experience the extremely exciting emotions of the class with these 9-seat Limousines. In addition to the 9-seat Limousine, there are also two other types with equally classy equipment: the 16-seat Limousine and the 22-seat Limousine Dcars. These are also two high-end Limousines that many customers choose when contacting to refer to the self-drive car rental service in Da Nang Dai Gia Dinh.
Dai Gia Dinh's 9-seat, 16-seat and 22-seat limo rental service is normally contracted to pick up guests to attend conferences and trade exhibitions in Da Nang and Hoi An in general. . In addition, the Limosine fleet also serves tours at famous tourist destinations in the Central region such as Hue, Hoi An, Ba Na Hill, Quang Binh, Quang Tri, Quy Nhon, ... in which, The cost of renting a luxury 9-seat Limo car includes fuel costs, parking fees.
High-end Limousine features
Conventional high-end 9 seat linosine has the following features:
- The 3-seat driver compartment for the driver and the guide or the leader is made up of 1 and 2 adjacent seats.
- The separate passenger compartment has a total of 7 seats, including 4 seats leaving the center area and 3 adjacent seats at the end of the car.
- The 9-seat limousine is equipped with business-class interiors on specialties, very sophisticated, comfortable and classy, ​​suitable for school trips.
What is your goal of renting a 9 seat Limousine in Da Nang?
You are looking for information and want to rent a 9-seat Limo bus in Da Nang for purposes such as:
- Rent a 9-seat Limousine shuttle to and from Da Nang, Chu Lai airport or Hue Phu Bai airport with a group of 9 adults.
- Rent a 9-seat Limousine bus in Da Nang for a group of 7-9 people to go to Ba Na Hill golf course
- Rent a 9-seat Limousine bus in Da Nang for groups to attend conferences or for big bosses traveling to Grand Sheraton, Furama Resort, Hoiana Villas, Intercontinental Resort, ...
- Rent a 9-seat Limousine bus to group members to visit and travel at exciting spots near Da Nang such as Paradise Club, HoiAn Suncity, Casino Crown Plaza, ...
Contact the self-driving car rental company Dai Gia Dinh, we will advise you for free to get a 9-seat Limo model that best meets your goals!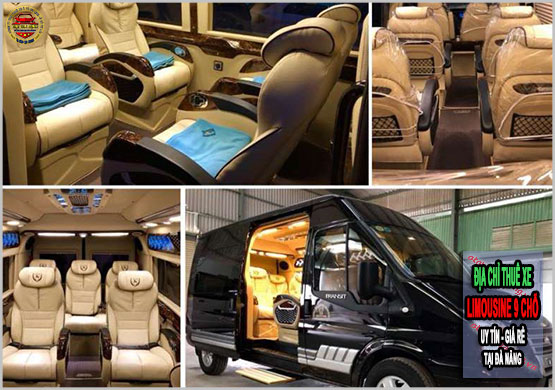 Rental services Limousine 9 seats, 16 seats and Dcars Limo 22 seats cheap in Da Nang
Dai Gia Dinh's Da Nang tourist car rental service is ready to offer a wide range of 9-seat, 16-seat Limousine and 22-seat Dcars Limo for customers to choose from. The Limousines for rent in our car rental service system are all new, well-functioning, full of safety standards and high-end amenities, promising to bring customers a space full of mail. relax with your journey. With luxurious interior design, the seats are upgraded with 4 facing-facing seats giving you chat space, standard rear seats. Everything is wrapped in high-grade fine leather felt and feels like you're on the business class of a specialist, very class.
Limousine is equipped with many conveniences, ready to serve the needs of any passenger in the car such as: 220V socket for charging phone, laptop, USB port, lighting system, led light, DVD player, screen picture with excellent sound system. Limo definitely gives you an authentic and lively music space, energizing an exciting journey. And especially the soundproof baffle system between the cockpit and passengers, you can be completely assured of safety without distracting the driver.
Rental car rental luxury 9 seats in Da Nang company Dai Gia Dinh
| | | | | |
| --- | --- | --- | --- | --- |
| No | Schedule | Time | Limosine rental price 9c | Car rental Solati 9c |
| 1 | Da Nang Airport - Hoi An | One way | 1.400.000đ | 1.700.000đ |
| 2 | Da Nang Airport - South Hoi An | One way | 1.700.000đ | 1.900.000đ |
| 3 | Da Nang Airport - Lăng Cô Huế | One way | 2.200.000đ | 2.500.000đ |
| 6 | Da Nang Airport - Sơn Trà Resort | One way | 1.500.000đ | 1.700.000đ |
| 7 | Da Nang Airport - Hotel Vanda ĐN | One way | 800.000đ | 900.000đ |
| 8 | Da Nang Airport - Furama Resort | One way | 1.000.000đ | 1.400.000đ |
| 9 | TT Đà Nẵng - Bà Nà Hill | One day | 2.400.000đ | 2.700.000đ |
| 10 | TT Đà Nẵng - Ngũ Hành Sơn - Hội An | One day | 2.800.000đ | 3.000.000đ |
| 11 | TT Đà Nẵng - Hầm Hải Vân - Huế | One day | 3.000.000đ | 3.500.000đ |
| 12 | TT Đà Nẵng - Mỹ Sơn - Hội An | One day | 3.300.000đ | 3.500.000đ |
| 13 | TT Đà Nẵng - Núi Thần Tài | One day | 2.500.000đ | 2.800.000đ |
| 14 | Đà Nẵng - Nam Hội An - Đà Nẵng | One day | 2.500.000đ | 2.800.000đ |
| 15 | Đà Nẵng - Quảng Trị - Hotel Huế | One day | 5.500.000đ | 5.800.000đ |
What if you have tapes that need answers for your 9-seat Limosine rental goal? Please contact us at:
ĐẠI GIA ĐỊNH TOURISM SERVICES AND TRADING CO., LTD
Address: 119 Me Nhu, Thanh Khe, Da Nang
Hotline: 0948.77.75.75
Website: https://ototulaidanang.vn/