Đại Gia Định's VIP car rental service provides a variety of beautiful, high-end to super-luxury cars, meeting the need of bringing a great party in your life.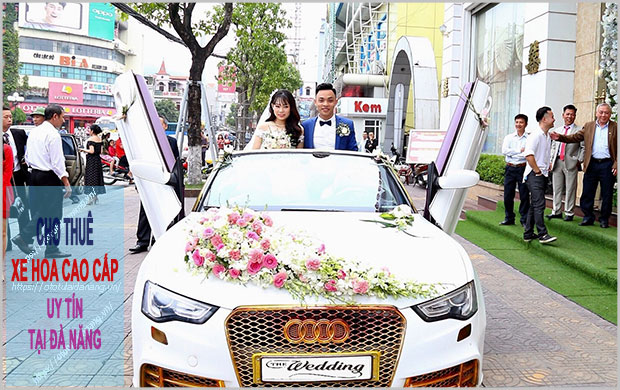 Wedding car rental Da Nang service of Đại Gia Định will help you get the most luxurious flower caravan on your wedding day. With super luxury cars such as BMW, Mercedes, Audi, Porsche ..., we believe that you will have the most wonderful flower caravan on the great day of life.
Wedding day is definitely a very meaningful day in life, so almost everyone wants the best, the most beautiful, the most luxurious, ... what happens on that day. And of course, owning a line of beautiful and luxurious flowers will definitely make your party more sparkling and memorable.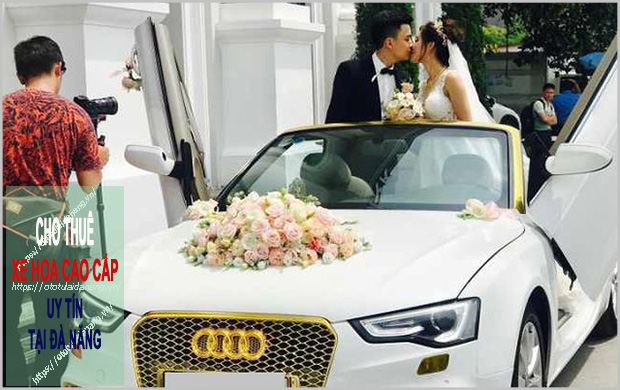 Đại Gia Định currently has a "special team" of luxury cars, high-class cars of famous brands dedicated to welcoming the new prince such as BMW, Audi, Porsche, Honda, Mercedes ... Especially, flower car models. Our luxuriously decorated ornate luxuries will make your wedding day even more meaningful.
With the competitive cost of renting a flower car package, we are committed to you that you will always feel absolutely satisfied when choosing Dai Gia Dinh's flower car rental service. We are always proud to be the company providing PRESTIGE, PROFESSIONAL and BEST flower car rental services in Da Nang city today.
PHOTO OF HOA DAI GIA DINH CAR RENTAL SERVICE
Car rental flowers to bring the bride, travel car for the wedding party with many types of cars from luxury to super-prestigious, the best quality and cost in Da Nang: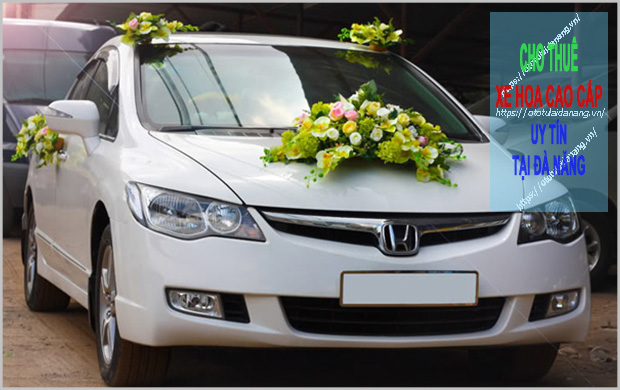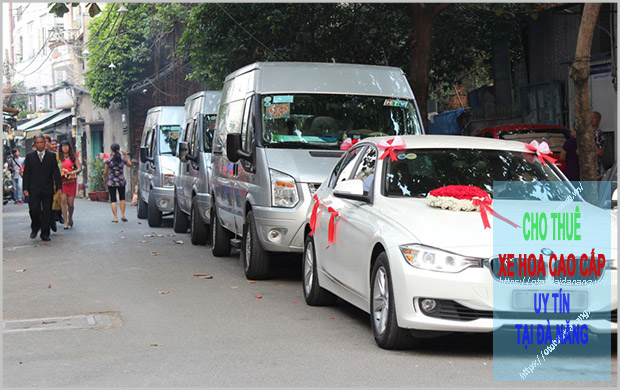 WHY CHOOSE WEDDING CAR RENTAL SERVICE's ĐẠI GIA ĐỊNH?
+ Dai Gia Dinh wedding car rental Da Nang service system currently has many luxury and super luxury car models ready to serve the needs of customers.
+ We are always flexible and have many choices for the goal of bringing a great party with a variety of cars from 4 to 45 seats depending on the needs and requirements of customers.
+ We are ready to meet customer requirements with the best cost.
+ Flexible payment method, creating maximum conditions for customers.
+ Cheap self-drive car rental Da Nang company always commits to deliver the car on time, on time and guaranteed by the respective compensation terms under the contract.
+ Dai Gia Dinh is always ready to provide flower trucks and party pick-ups for large wedding guests wishing to rent flower cars in large quantities.
+ DAI GIA Dinh flower car rental commitment is most competitive in Da Nang city in particular and the Central region in general.
+ Giving great value gifts to customers who rent super luxury flower cars over 10 units.
+ Service team, professional driver, polite and friendly ready to serve customers.
+ Customers can cancel the flower car rental booking 48 hours before the wedding ceremony.
ATTENTION CUSTOMERS WHEN RENTING WEDDING CARS
+ Customers please sign the contract BEFORE 5 DAYS to ensure the right flower car wants.
+ Other forms of flower car rental to intercity will have to pay more deposits than renting flower cars to move in Da Nang city.
+ The flower car rental includes all surcharges (including fees: bridges, parking, gas) but not including the 10% VAT charge.
+ Cases arising when bringing guests to the restaurant and waiting for customers to return will be charged an additional surcharge according to the agreement.
WEDDING CAR RENTAL SERVICE's DAI GIA DINH
Please contact directly Tel: 0948.77.75.75 - 0902.0000.75 (Mr. Định) or provide car rental information at the website https://ototulaidanang.vn/ to get the best advice and quotation.
(*) Customers need 4 seat car rental, 7 seat car rental, 9 seat Limusine rental, 16 seat car rental, 29 seats to 45 seat car rental and other requirements, please contact us for Detailed quotes.
Self-drive car rental Da Nang service's Đại Gia Định company would like to thank you for your companionship and look forward to continuing to receive your support. We wish you good health and success.
Best regards!
CAR RENTAL SERVICE's ĐẠI GIA ĐỊNH