Review introduce some beautiful tourist destinations in Da Nang
Da Nang is dubbed the "Pearl of the Far East" and is considered the version of "Singapore Vietnam" with countless attractive tourist attractions. This is also a condition for Da Nang to focus on enhancing the development of a key tourism economy. Here is a summary of some of the most prominent tourist attractions of Da Nang that you should explore when you have the opportunity to come here!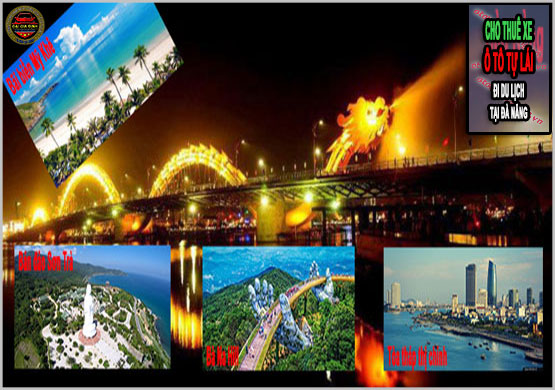 1. Dragon Bridge and 2 banks of the Han River
Dragon Bridge and the two banks of the Han River topped the top 10 most interesting places to visit in Da Nang. Completed and opened to traffic in 2013, Dragon Bridge is considered a tourist symbol of Da Nang city. Dragon Bridge is 667m long, 37.5m wide, has 6 lanes, in the middle of the bridge is a giant dragon, can change light color, spray water, spray fire. Every weekend, Dragon Bridge has water and fire spray shows from 9:00 am to 9:00 pm, attracting the attention of many visitors.
In addition, the Dragon Bridge is also the artery bridge connecting Da Nang International Airport to My Khe beach, as well as a panoramic view of the Han River.
The two sides of the Han River - the most beautiful river in Da Nang, are also brilliantly decorated every evening, gathering many restaurants, hotels and cafes with beautiful views. Specifically, the two sides of the Han River also have interesting places such as Love Bridge, "Dragon carp" in Singapore, and the weekend night market.
Besides Dragon Bridge, you can also visit other equally beautiful bridges spanning the Han River such as Han River Bridge, Nguyen Thi Ly Bridge, Thuan Phuoc Bridge, Tien Son Bridge, all very beautiful and glossy. royal at night. In particular, the Han River bridge at midnight will be rotated 90 degrees for boats to pass. Although the bridge's rotation is for commerce, it also attracts many tourists due to its uniqueness.
2. "Holy Land" My Khe
My Khe Beach Da Nang city has just been honored by Forbes magazine in the list of 10 most beautiful beaches on the planet. This beach has also been ranked by Australia Sunday magazine as one of the best in Asia. Why so?
My Khe Beach is a beach stretching along the strait of Da Nang city, winding in an S-shaped arc and up to 900m in length. Only 5.5 km from Da Nang International Airport and only 1.5 km from the Dragon Bridge. km, My Khe beach fully meets international 5-star beach standards: convenient transportation, wide beach, clear water, medium waves, white sand, green trees, free in and out, surrounded by 3 to 5 star restaurants and hotels.
In addition, My Khe Beach has a back to the town, overlooking the East Sea with the cool green Son Tra mountains and the Cu Lao Cham peninsula. Perhaps that is why My Khe Beach is known as one of the most beautiful beaches on the planet.
3. "Fairy scene" Ba Na Hill
In the Top 10 most attractive tourist attractions in Da Nang, you must go to Ba Na Hill, Ba Na Hill is a tourist area built by Sun World Group on Ba Na Mountain, for the purpose of collecting attract tourists. This is the place called "Bong Lai Tien Canh".
Located on the Truong Son range, Ba Na is 25 km from the center of Da Nang city, Ba Na Hill is located on the top of Chua Mountain in Ba Na. With the forerunner planned and built by the French as a luxury resort in Indochina, up to now, Ba Na Hill still retains the old Western style, and is rebuilt more modern. Ba Na Hill is now a "virtual living" place that is extremely attractive to domestic and foreign tourists.
In Ba Ba Hill, there are notable points that are: The longest cable car system in Vietnam; the oldest and most modern European-style urban area in the country; 27 m high Buddha statue; Linh Phong Bao Thap 9 floors; The beautiful flower garden of Jardin D'amour and more recently the Golden Bridge sits between two giant stone hands.
4. City Hall and Da Nang Museum
Considered a symbol of Da Nang city, any visitor to Da Nang can not miss taking photos with Danang City Hall. With a height of 166.8 m, Da Nang City Hall is the tallest building in the center, and also the 4th tallest building in Vietnam (after Landmark 81 (Saigon), Keangnam Landmark 72 (Hanoi) and Bitexco (Saigon).
Danang City Hall with a unique design, known to the people here with a dear name "corn building", is even more beautiful when viewed from the two sides of the Han River.
Right next to Da Nang City Hall is Da Nang Museum - where the entire history of the city is kept from primitive to modern, through the periods of Discovery, Anti-French, Indochina, Revolution and Period. . extended time; as well as keeping extremely unique seafood specimens from Da Nang beach.
5. Son Tra Peninsula and Linh Ung Pagoda
Son Tra peninsula is one of the most beautiful mountain populations in Da Nang (along with Ba Na and Ngu Hanh Son). Son Tra peninsula is located 10 km northeast of Danang city center, connected to the coast of Da Nang (including My Khe beach), is one of the populations that surrounds and protects the city with Danang. . Thuan Phuoc Bridge - the longest suspension bridge in Vietnam is a bridge connecting Da Nang city with Son Tra peninsula, moreover you can also follow the coastline to reach this peninsula. Son Tra peninsula has a dangerous beauty, many cool green trees, hot springs, Da Nang port, beautiful beaches, high-class resorts.
More specifically, on Son Tra peninsula is Linh Ung Pagoda. Linh Ung Pagoda is located at Bai Dau, with a direct view of the coast stretching from Da Nang, gathering beautiful spiritual architectures, bringing a pure space that is completely different from tourist resorts. Da Nang is different. .
On Linh Ung Pagoda there is a statue of 18 Arhat and especially the giant statue of Quan The Am Buddha made of white stone, 67m high, which is the tallest Buddha statue in Vietnam. The Quan The Am Buddha statue at Linh Ung Pagoda leaning against the mountain facing the sea can be seen from every beach along the coast of Da Nang.
Experiment travel Da Nang by renting a self-driving car, why not?
Using a car will definitely bring comfort, convenience, new and interesting travel experiences, however, owning a car is not as easy as in our country - where car prices are always at a level many times higher than the income level. In addition, in our country, owning a car means that you have to "cover" many different fees and charges.
In fact, the demand for cars is quite large, but the cost to own a car is almost out of reach of the majority of Vietnamese people today in general, this is also what makes the demand. Self-driving car rental demand in Da Nang in particular is increasingly high in our country.
Obviously, if you are a real "rider", who loves to explore travel here, loves the experience, then choosing to rent a self-driving car is a great solution to satisfy your passion. . With a self-driving car, confident that you will "own" every journey with the safest and most comfortable in the trip. By simply, you will discover a lot of interesting things while traveling with self-driving cars, such as:
• Self-driving car rental means that you have to do all the work related to the car to move the car according to your own route and will.
• Proactively relocate: This is the biggest benefit of self-drive car rental, especially when traveling. Depending on where you want to go, how long you want to go, when and what to do, all are not influenced by other factors, your journey will definitely be more enjoyable.
• Absolutely private space: If you rent a self-driving car, the car is like your own space. You can tell jokes, tell your group's private stories without paying attention to others (like driving).
• Proactive, fixed and cost-saving: This is natural, because you only have to pay car rental without having to pay additional costs such as the driver's accommodation expenses, ...
• Drive their own way: Traveling is all about the feeling of the experience, for which you are completely "in control" of your own way when renting a self-drive car.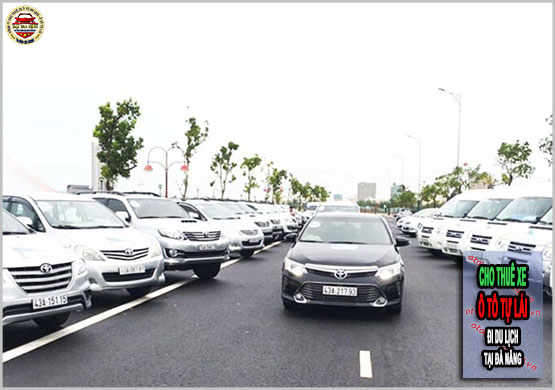 When should I rent a self-drive car for your travels?
• When traveling with a family with children, you want space for your family.
• Accompanying groups of 3-7 people, traveling with women who like to sit in the air conditioner and dislike the feeling of "the sun makes your skin darken", ... A car (or rent a self-driving car) would be the most ideal solution for this case.
• Traveling on a field trip with family or a group of friends with many camping items not convenient to carry.
• Experimental feeling of exploring tourism without having to pay too much attention to the factors of suddenly sunny - rainy weather.
• You have the budget to pay for self-drive car rental and really want a safe and more comfortable, comfortable travel for both you and your family or friends ( if)
What is the routine procedure for self-driving car rental?
The usual self-driving car rental procedure usually requires you to prepare a number of specific necessary paperwork such as:
• Legal household registration / ID card / CCCD / Passport
• For travelers often need to have a motorbike or deposit a small amount of money when renting it. Particularly for customers residing in the same locality, there are many units that do not require a deposit when renting a car. For example, if you want to rent a self-drive car when planning to travel in Da Nang, you can contact to use the cheap self-drive car rental service in Da Nang by Dai company. Gia Dinh, this unit does not require customers in Da Nang to deposit money when renting a car!
• Driver's license for the correct class for the type of car you want to rent
• The rental and return period of the car is usually based on a specific agreement between the customer and the car rental company.
Experience helps you rent a self-drive car to ensure quality travel
- When renting a car, it is necessary to clearly define the goals and also the circuit to choose the appropriate car rental service. When renting, you should pay attention to the car line, the form of deposit and payment to avoid disputes between the two parties.
- Attention arises according to the appropriate service, need to check clearly how much money / hour to add per hour to balance the whole trip.
- Should choose a reputable, professional service provider and have as simple as possible standard car rental procedures.
- Program a specific plan and book a car rental in advance in order to avoid the case of car booking without, avoiding the car rental team, especially during holidays and New Year.
- When renting a car, you must sign a clear and accurate contract with each specific term, avoid disputes (if any) or after unexpected problems occur.
- Prepare in advance the necessary papers as required by the service provider to make the car rental work faster.
- Check all documents and vehicle status before receiving: Check the legality through vehicle documents, check the interior and exterior of the vehicle, check the number of kilometers, check the gas indicator, check the performance and safety of the car, ...
- You can return the car if the car is normal. But when the car has problems, it is necessary to consult with experienced people so as not to lose unnecessary expenses.
In short, in the self-driving car rental process, if you act too careful, it can sometimes make the garage employee uncomfortable. But obviously this is necessary because it is related to responsibility and budget, so it cannot be done through tangerines. Therefore, it should be done as quickly as possible, in a spirit of cooperation and politeness, so that both sides can do their jobs. What you need to do is try to check carefully before signing a self-driving car rental contract with indispensable steps such as:
- Check out the car
- Check the interior of the car
- Check the vehicle's mileage
- Check vehicle papers
- Check for binding contract terms when renting a car
- Finally, you should and need to take a test drive before signing the contract to accept the car
If you come to Danang and want to rent a self-drive car? Please contact Dai Gia Dinh's self-drive car rental service immediately for assistance:
CAR RENTAL SERVICE's ĐẠI GIA ĐỊNH
Address: 119 Me Nhu, Thanh Khe, Da Nang
Hotline: 0948.777.575
Website: https://ototulaidanang.vn/
Best regards!