Hyundai Starex is a 9-seater car that features spacious and comfortable sliding doors. This is a reasonable car line for traveling with groups of 7-10 people. In particular, Dai Gia Dinh's 9-seater Starex car rental Da Nang service has many attractive discounts for all customers.
In addition to the 9-seat Starex car rental agreement by the hour and by the day, the cheap self-drive car rental Da Nang service Dai Gia Dinh we also offer a 9 seat Starex car rental by trip and a 9 seat rental contract. Package place, very suitable for many different types of work of customers such as: picnics, provincial business trips, airport transfers, conference trips, weddings,...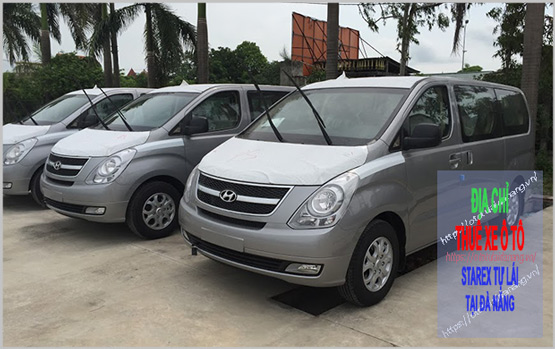 Information of 9 seats Hyundai Starex for rent in Da Nang
Here are some basic information about the 9-seater Hyundai Starex car that our company is leasing, in particular, the 9-seater Starex has outstanding advantages such as:
- Starex is a 9-seat multi-purpose vehicle that can be used for many different purposes.
Starex's interior is quite beautiful and basic to meet the needs of users such as: the car is equipped with full comfort and safety for the user, the seat system, the air conditioning system for each individual the last row of seats, ...
- Seat row 2 can slide and rotate flexibly, the rear seats fold freely, helping to increase luggage space when needed.
- Air-conditioning system cools quickly, bringing fresh air to each passenger.
>> Xem thêm về dịch vụ cho thuê xe ô tô tự lái Đà Nẵng của công ty Đại Gia Định bằng ngôn ngữ tiếng Việt
Why should rent a 9 seat Starex car in Dai Gia Dinh?
Huynhdai Starex has a strong appearance, soft and elegant edges, but the interior is quite sophisticated, comfortable and luxurious.
The vehicle engine works stably, stably and saves fuel. The car has a quite large luggage compartment which is suitable for group activities, business trips, family travel or groups of friends.
In addition, Dai Gia Dinh's self-drive car rental Da Nang services always meet customers' requirements including 9-seat Starex car rental with driver or self-drive in Da Nang. The company's car rental service now has many attractive incentives that ensure that all customers can be satisfied.
Some notes for customers when renting a self-driving Starex car
When renting a 9-seat Starex car at Dai Gia Dinh company, customers need to know and pay attention to a number of specific issues such as:
1. Dai Gia Dinh's 9 seat Starex car rental includes road and bridge costs, parking fees, insurance premiums and driver's salary.
2. Our rates inform customers when they request to book a car rental excluding VAT, so if you want to get a VAT invoice, you need to add 10% of the total contract value.
3. The announced car rental price (or a separate quote for each customer) is a reference price and is not fixed. Depending on the time and promotion policy, demand, fuel price, costs incurred during the operation of the vehicle ... may vary, so please contact us for a good price. Best.
Rental car Starex 9 seats in Da Nang by Đại Gia Định
Basic price car rental Da Nang service of Starex 9 seats in announced by Dai Gia Dinh company with detailed information as follows:
- Brand: Hyundai
- Model / Model of vehicle: Starex
- Model: Mini-Van
- Vehicle life: 2016-2019
- Number of seats: 09 seats
- Color of vehicle: White-Silver
* Starex car rental with driver: (8h / 100km / 1 day): 1,250,000 VND
* Self-driving Starex car rental: (8h / 120km / 1 day): 900,000 VND
For consulting support and quotation for the best 9-seat Hyundai Starex car rental in Da Nang, you need please contact our company at:
ĐẠI GIA ĐỊNH TOURISM SERVICES AND TRADING CO., LTD
Address: 119 Me Nhu, Thanh Khe, Da Nang
Hotline: 0948.77.75.75
Best regards!